DJI Inspire 1 Review and Analysis

DJI has never failed with their amazing quadcopters. The debut of its Phantom drones was enough to generate a buzz among the community of DIY UAV enthusiasts. Since then, the company has taken great strides in providing new machines. DJI has released a new drone: the Inspire 1 – and this time, it is a massive step from what the well-reviewed DJI Phantom 2 Vision+ offers. Here's our full DJI Inspire 1 review.
Get This Best Priced Inspire 1 Direct From Amazon Discount
The Pros

A "level up" isn't enough to describe how much DJI has improved the specs of the Inspire 1. The company has taken a massive stride to deliver such a cutting-edge aerial drone. The new features alone are proof of that. Take a look at what new things DJI has added to this machine:
The camera is way better than what the Vision+ has. This machine's camera can record crystal clear 4K video clips at 24-30 fps. This is a big step from the typical 1080p and 720p videos other quads record. Moreover, the camera is detachable – so if you decide to upgrade in the future, all you have to do is unscrew the camera for the new one.
Click Here For More Information and User Reviews
The gimbal is also worth mentioning. This UAV carries the same 3-axis gimbal technology DJI is famous for. But what's even better is that the gimb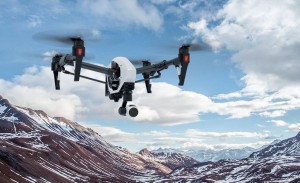 al can rotate 360° and tilt up to 125°. This is something no other drone can match to date.
The combination of the camera and the gimbal works well with this quad's retractable landing gear. Upon takeoff, a button switch is all you need to draw the landing arms to the side of the drone. This removes any obstruction for the camera, allowing it to capture 360° video clips without any visible parts.
As for the navigation, DJI takes the cake for providing a new machine that's easy to fly. Remember how the Vision+ got a lot of praises for its easy navigability? The Inspire 1 trumps that, thanks to its intuitive controller and app interface. Plus, the drone can stay stable even when the winds are strong.
Durability is a non-issue for this ready-to-fly quad. It has carbon fiber parts in the landing gear, which provides some toughness without being too heavy. The design is sleek and futuristic, but not in any way over the top.
The Cons

The DJI Inspire 1 has no real cons or disadvantages, but merely areas that need some improvement – the first and most obvious of which is the price. A full kit of this drone will set you back around $3,000. If you want an extra controller or an extra battery, you'll have to add extra. The features do justify the price to some extent, but this drone's cost is just too high even for a product from the top end of the UAV market.
Even the additions for this quadcopter are expensive. Worse, you can only use batteries that DJI manufactured. This removes any possibility of using a non-branded battery to extend the flight time of the quad.
Speaking of battery life, this aerial drone can fly a little longer than average. But considering how high-end this quad is, 18 minutes seems a tad short. Add environmental factors like the wind there and you'll only be able to fly this UAV for maybe around 15 minutes.
In terms of use, the sensors can have some hitches here and there. When the ground isn't flat, it fails to trigger the landing procedure right away. These, however, are minor setbacks DJI can improve with a few tweaks.
The Discussion

The features that come with the Inspire 1 deserve their own discussion portion.
First of all, this unmanned aerial vehicle can fly indoors – and that's without the guidance of GLONASS or GPS technology. This machine has sensors that DJI calls Optical Flow, which allows the drone to detect its surroundings for a safe flight.
DJI Inspire 1 Drone Specifications

| | |
| --- | --- |
| Dimensions | 43.8 x 45.1 x 30.1 cm |
| Weight | 2935 g |
| Battery | 4500 mAh LiPo 6S high voltage |
| Camera | X3 – 1/2.3" CMOS sensor, aspherical lens, 12 MP, 4K 24-30 fps video output |
| Flight Time | 18 minutes |
| Control Range | 2 km |
| Flight Speed | 22 m/s |
| Motor | DJI 3510 |
---
It also features a smart way of managing the battery. The power management system allows you to see how much juice each battery cell has, so you can check which ones are not functioning well. It also informs you of the total flight time and the amount of power it needs to fly back to the take-off destination. This, so far, is one of the most helpful features ever added to a drone.
The Verdict

So should you buy DJI Inspire 1? It depends on how you'd use it and if you can afford it. At around 3 grand, this DJI drone is not cheap at all. It has excellent features, but you would want to make full use of its suite of high-end tech to justify the price.