Yunee
c Typhoon H Review and Analysis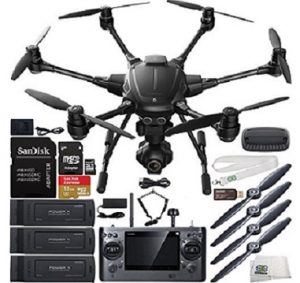 For years, Yuneec has been developing powerful and advanced drones to dethrone DJI as the leader in high-performance aerial photography drones. It seems Yuneec is finally getting there, with the unveiling of one of their newest creations, the Typhoon H.
When you buy the Typhoon H, you'll get all the features available in DJI Phantom 4 (P4) – and a few extras! Let's have a look at the hardware that make this new drone stand out.
Buy Typhoon H Direct from Amazon Discount
Yuneec Typhoon H Specs
| | |
| --- | --- |
| Dimensions: | 20.5x18x12.2 in (520x457x310mm) |
| Battery: | 4S 14.8V LiPo Battery (POWER 4) |
| Battery Capacity/Voltage: | 5400mAh 4S/14.8V(79.9Wh) |
| Charger: | SC4000-4 |
| Rotors: | 6 (2 blades per rotor) replaceable, 9.25-inch diameter |
| Flight Time: | Up to 25 min |
| Maximum Flying Height: | 122m(400ft) agl (Restricted by FAA ) |
| Transmitter: | ST16 Personal Station Ground |
| Airframe Weight (WITH BATTERY): | 59.8oz (1695g) |
| | |
Yuneec Typhoon H Camera Specs
| | |
| --- | --- |
| Pixels: | 12.4 Megapixels |
| Lens: | 14mm/F2.8 |
| FOV: | 98 Degree |
| Electronic Shutter: | 1/30s--------1/8000s |
| Video Transmission Range: | Up to 1.6km/1 mile |
| Transmission System: | 5.2Ghz — 5.8Ghz |
| Video: | UHD 4K 30fps |
Yuneec Typhoon H Controller Specs
| | |
| --- | --- |
| Operating System: | Android™ |
| LCD Screen Size: | 7" |
| Video Link Resolution: | HD 720p |
| Channels: | 16 |
| Video Link Frequency Band: | 5.8GHz WiFi |
| Battery Capacity: | 3.6V 8700mAh 31.32Wh Li-ion |
| Flight Systems Telemetry Data (OSD): | Yes |
| Range (Optimum Conditions) | Up to 1.6km/1 mile |
Six is Better than Four
The Typhoon H has six rotors/propellers instead of four, but Yuneec has optimized this beast to fly effortlessly using just five rotors. The extra rotor comes in handy when you lose one rotor for any reason while filming. The drone will immediately adjust and fly back home as if nothing has happened.
Capture Everything
Typhoon H has a host of other features that you can't find on DJI Phantom 4 and its contemporaries. It comes with a 12.4-megapixel camera that records UHD 4K videos at 30 fps. The powerful camera allows you to take footage of the entire location in different angles, thanks to the 3-axis gimbal that can swivel 360 degrees. The landing gear easily retracts at the flip of the switch, so it won't get in the way of your shots.
Sense and Avoid Tech Just Got Better
Yuneec has added a built-in obstacle avoidance tech to reduce the risks of collision that can damage the drone and its parts. The Typhoon H uses sonar to detect and avoid obstacles in low light and complete darkness. As the system is mounted on the nose of the drone, it can only detect obstacles in front of it. This technology is an attractive feature for inexperienced pilots.
Multiple Autonomous Flying Modes
It offers a range of autonomous flight modes, where it does most of the flying without being controlled by the pilot. The Orbit Me mode, for instance, enables the drone to orbit around the controller while keeping the focus on the operator. The Point of Interest mode allows the hexacopter to orbit around a location set by the GPS coordinates on the controller screen. Other autonomous flight modes include Journey, Curve Cable Cam, Follow Me, and Return Home.
Better Control
Unlike the P4 and 3DR Solo, the Typhoon H comes with a dedicated controller and a built-in 7-inch touchscreen display. That means you don't need a smartphone or tablet to control the drone, view real-time telemetry data, stream live video, and access other features or flight modes.
Here's the best part: the Typhoon H allows you to link and use not just one, but two controllers at the same time. Use one to control the drone and the other to control the high-powered camera. As of now, you can't find this feature in any other drone on the market.
Like any other aerial photography drones, the Typhoon H has its own pros and cons. But the good thing about this particular model is that it offers more benefits than downsides. Let's have a look at what's good with the Typhoon H and what's not.
The Verdict

For the Yuneec Typhoon H, impressive pro features come in a pilot-friendly package. This innovative, easy-to-fly machine is suitable for both amateur and professional applications. It's less costly than the Phantom 4, and comes with extra features not present in the latter or any other late models. If you're looking for a great combination of performance, innovation, reliability, and value for money, this powerful beast might be the one.