3DR Solo Vs. Phantom 3 Comparison
The battle for the best camera quadcopter has been heating up these past few months, especially with the arrival of new units from top brands DJI and 3D Robotics. Here comes our comparison between 3DR Solo Vs. Phantom 3.
A lot of drones have been hitting the market, and more will be flying in soon, but no other products have been making more noise than the latest birds from DJI and 3DR. DJI introduced the Phantom 3, touted as the most intelligent, most powerful, and most accessible drone to date. It is available in two versions: professional and advanced.
3DR, meanwhile, released details about its Solo drone, dubbed the world's first "smart drone". According to their announcement, "Solo will be available in over 2,000 retail locations worldwide starting in May in the U.S., and in June and July globally" where it will become "available in 3DR-authorized premium retailers around the world." Their site, however, is still allowing only pre-orders. Read more about DJI Phantom 3
>>> Click Here to See Best Priced Phantom 3 in Amazon
Today, we're pitting the two against each other to see their unique features and specs.
3D Robotics Solo Vs. DJI Phantom 3 Specifications
---
Overview



The DJI Phantom 3 comes with an all-new 4K camera that can stream HD video to the controller from a mile away. It comes with an array of sensors and is generally an extremely reliable piece of video equipment. When it comes to the aerial photography drones, this one surely soars to the top of the lists.
Not to be outdone, the 3DR Solo comes with its own set of features that can go toe-to-toe with the Phantom 3. The bird packs two 1GHz open source processors, HD video streaming capabilities, pre-programmed flight paths, full GoPro integration, and a whole lot more.
Based on numerous drone reviews, one thing we can claim with certainty is that both units make good on their promise of providing a great flying experience for pilots of all skill levels. One thing worth noting is that the DJI and 3DR looks to be yielding to public clamor, particularly when it comes to design and features. Both new models incorporate features longed for by many pilots and appeals to the more mainstream users.
Build



In terms of looks, DJI still sticks to its signature Phantom body shape with the Phantom 3, while the Solo sports an entirely new look unlike any other 3DR drone.
DJI's decision to stick to its distinct and famous white body and sleek design for the Phantom 3 was a good move, since it's arguably the most recognized design in the market. Plus, DJI has already taken a turn with a new and innovative design with the Inspire, granted it has a price tag higher than Phantom.
The new look for the 3DR drone is definitely an improvement. It comes blacked out with a sleeker yet sturdier frame. This deviation from the design of previous entry-level drones results in a more appealing and durable model, a plus for 3DR.
Battery



Flight times between the Phantom 3 and the Solo are generally the same, an average of 20 minutes, give or take a few minutes depending on weather and flight conditions. DJI continues to offer a flight time of 23 minutes similar to previous Phantom models. 3DR, meanwhile, has managed to stretch its flight time to 25 minutes without payload and to 20 minutes with a camera or the gimbal.
Both birds come with intelligent battery systems that tracks battery power and helps pilots know when it needs recharging. The Phantom 3 Professional wins this category, though, as it comes with a 100-watt charger that reduces the time the drone needs to be plugged in.
Camera



Both 3DR and JDI know that the ability of a drone to capture spectacular aerial videos and photos pushed drones to new heights in terms of popularity, and both manufacturers didn't fail in capitalizing on this. The two companies have expended great efforts to ensure users get a seamless, intuitive, easy, and most of all, fun aerial photography experience.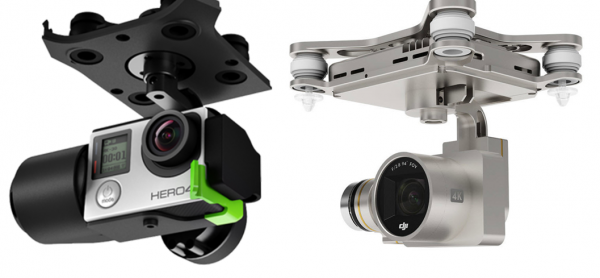 Both birds carry 4K-capable cameras, but the Phantom may edge out Solo when it comes to the little details. The Phantom 3's image sensor is the same as the one in Inspire 1, while the gimbal is similar to the Phantom 2 Vision+. This allows for videos and photos captured in outstanding clarity and quality.
Right now, based on several quadcopter reviews, the video capture function of the Solo does not look as smooth as the Phantom 3, or even the Phantom 2. The technical video quality for the Solo is fine since it uses the GoPro Hero 4, but stability could be a problem as shakes and twitches can be noticed in videos. Some enthusiasts even agree the promo video for the Solo has been digitally stabilized.
A point of contrast worth noting: the Phantom 3 has a pre-installed gimbal that can only accommodate the pre-installed camera. The Solo, meanwhile, is designed to be compatible with other cameras and gimbals. Whether this will be a pro or a con will depend on the pilot.
Both drones are able to shoot 4K videos at 30fps and 12MP stills; the Phantom 3 using the included DJI camera and the Solo via the GoPro Hero 4. Live HD streaming to a mobile device is also provided for both drones via their respective apps.
Navigation



There's not much comparison we can make between the Phantom 3 and the Solo when it comes to flight capabilities until we actually get our hands on the Solo and run both birds through a series of flight tests.
Based on some drone reviews, though, there could be some questions about Solo's stability, based on its launch video. Both come with their respective set of flight modes, which is pretty impressive for drones in this class. The two units are, indeed, ideal for pilots of any skill level.
The Phantom 3 has a flight range of about one mile, while the Solo stops at half a mile. Top speed for the Solo has yet to be set, but it can probably fly as fast as the Phantom 3 at 16 m/s, if weather conditions permit.
Price



When it comes to price, DJI wins this by a long shot. Even the pricier Phantom 3 Professional with a retail price of $1,259 comes in well under a complete Solo package.
The Solo itself retails for only $999, and then you have the option to add their gimbal for $399 and a GoPro camera (the Hero 4 retailing for $499). This means if you want to have the same 4K capability as the Phantom 3, the price climbs closer to $1900, still a few hundred dollars more than the most expensive Phantom 3 package (the Phantom 3 Professional with extra battery and Phantom backpack sells for $1,659).
The Verdict



We're giving this round to the DJI Phantom 3 just because it delivers on the great qualities DJI is known for, and because many quadcopter reviews agree this one performs generally better than 3DR drones.
On a feature to feature basis, the Solo drone missed the boat this round, with its shorter range, fewer camera features, and user friendliness. The Solo has great potential, but the price of a complete package (gimbal and GoPro cam included) doesn't help the case for 3DR.
For what it's worth, we're still excited about the Solo and we're sure it will find and build its own loyal fan base.