Dromida Ominus Drone Review and Analysis
Drones are no longer just for the professional pilots and enthusiasts, as many of the newer models are very user-friendly. Case in point, the Dromida Ominus. This ready-to-fly quadcopter drone is described in many drone reviews as one of the top choices when it comes to entry-level units. It receives a lot of positive feedback among users, especially when it comes to price, durability, and ease of use. But can it really live up to all the praise and hype? We take a closer look with our Dromida Ominus review.
The Dromida Ominus is described as "the unstoppable robotic menace of other quad's worst nightmares", but it will fly like a dream for you." This little bugger packs quite an impressive system and features in a lightweight yet durable unit.
The Ominus has no camera, but its upgraded version, the Ominus First Person View does come with a Wi-Fi-enabled FPV camera.
What's in the Box



The Ominus comes out of the box ready to fly and includes:
The fully assembled quadcopter
The 2.4 GHz SLT radio system
Rechargeable LiPo battery and USB charger
AAA batteries
Extra set of blades
Instruction manual
The drone is available in yellow, red, green, and blue. It comes out of the box ready to operate and requires nothing except for a full charge before you can fly it.
Click Here For More Information and User Reviews
Battery



For a little bugger that can do a lot of flying, flips, turns, and spins midair, the Ominus provides quite an impressive flight time of 15 minutes. Charging time is about 50 minutes, which is commendable. The package comes with four AAA cell batteries for the transmitter.
Build



One of the most talked about features of this quadcopter drone is its build, particularly its extreme durability. It is marketed as a unit that's "nearly impossible to break". Both the Ominus RTF (the original) and the Ominus FPV are fun and easy to fly, without having to worry about crashes or damages. The official Dromida website shows the drone being run over by a steamroller and a bike, hitting a fence, getting tangled in a kite, being swatted with a flyswatter, and even chewed by a dog.
The drone features a sturdy frame and advanced stabilization, features that are ideal for beginners. "Crash it, bash it, smash it, trash it, and watch it come back for more," the website describes. It has a sleek yet sturdy design that allows it to survive prop impacts. The build allows it to take abuse from kids and novice flyers, but still keeps it flying.
Camera



Different types of quadcopters are ideal for different RC activities. The consensus among many Dromida Ominus reviews is that although it has no camera, it's still worth it as the quad's main focus is fun. It can handle a small payload for a camera, but it could affect flight time, experience, and navigation.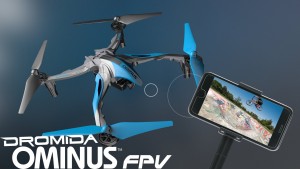 The Ominus FPV, however, comes equipped with a Wi-Fi enabled digital camera. This unit shoots crisp, clear photos and videos with a true eye-in-the-sky view, which you can see on a smartphone or other mobile device.
Navigation



The Ominus is described in many forums as one of the best drones for any skill level. It comes with gyro stabilization, high-powered motors, and intense LEDs that let you get the most out of every flight. The four pre-programmed flight settings (easy, normal, advanced, and expert) and the three accelerometers make flight control easy and fun.
Dromida Ominus Specs
| | |
| --- | --- |
| Dimensions | 238 mm (9.4 in) long; 14.8 x 9.7 x 3.9 inches |
| Weight | 101g |
| Battery | 700mAh 3.7v 1S LiPo battery |
| Camera | none |
| Flight Time | 15 minutes |
---
The drone is capable of flips, rolls, and twists with a simple press of a button, allowing you to do sick stunts. It flies in six directions and flight assistance can be turned off for full manual control.
The Verdict



There's really not much faults we can say about the Ominus. Apart from the problem with the lack of camera support, this small quad flies well and does a number of impressive tricks and functions. And with a price tag of $80 (price may vary depending on dealer), it definitely is a bargain, whether you're a beginner or not.
This Dromida Ominus review sees this unit as really threatening, at least for other beginner drones in the market.