DJI Phantom 3 Review and Analysis



"Smart" is the new trend for aerial photography drones – at least for those we will see this year. The new iteration of DJI Innovations' iconic Phantom line is proof of this. It's impossible to write a full DJI Phantom 3 review yet, as it is still in pre-order. But with the hype it has received since its announcement, it's only fitting for our team to make a pre-review of the machine.
With the features of the Phantom 3, it's obvious that DJI wants this iteration to be one of the best quadcopters 2015 will ever see. To be honest, our team can't wait to unbox and review this mid-range machine. Since we won't get our hands on it until later this month, however, let's take a look at what makes the Phantom 3 a contender for the award of this year's best quadcopter.
Improved Camera
When the Phantom 2 hit the market, people complained about its camera – and rightfully so. The lens were not that impressive. Considering what the first Phantom offered, a significant improvement was in order. This time, DJI seems to have learned from past mistakes.
In the two versions of the Phantom 3, the camera is the true star. For the advanced kind, you can record 1080p videos and shoot 12 MP stills. But if you want some more imaging power, the Phantom 3 Professional version would be your ideal choice, it can record 4K videos at 30 fps, after all.
This drone is not without its flaws, though. DJI says that the camera is non-removable this time around. Our team gripes about this idea, as we want our quadcopters easy to play with. This could be a limiting factor to users like us. Although to DJI's defense, the Phantom 3 camera are truly impressive, so this could be negligible. At this point, it's too early to tell, but do brace yourself for mixed feedback regarding the camera in every DJI Phantom 3 review you'd read.
'Worry-Free Autopilot' and Navigation

When you use DJI drones, you would know that navigation is an area where this manufacturer never fails – and we mean never. Even with the Phantom 3, DJI made sure that the drone is easy to fly and has the features necessary to please both newbies and seasoned pilots.
For one, the Phantom 3 will feature the new Lightbridge digital video FPV technology, which increases the broadcast distance of the drone. This makes it capable of reaching up to 1.2 miles away from the user while keeping a live video feed running.
The quad also has an upgraded GPS system, which taps both GPS and GLONASS to improve the accuracy of location data. If you would pit this vs the new Solo drone from 3DRobotics, this feature isn't that impressive.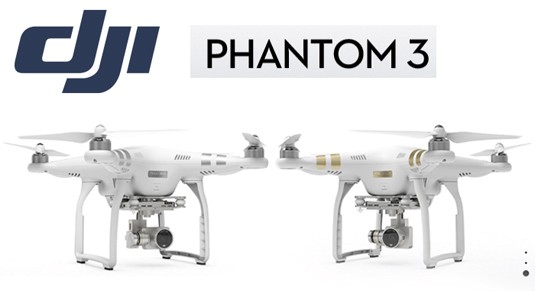 Where DJI shines, however, is with the Vision Positioning System of the Phantom 3. Basically, this is a feature that uses ultrasonic and visual sensors to identify the position of the drone. This allows for easy navigation both indoors and outdoors. Consequently, this nifty system allows the machine to remain functional even when there is no GPS/GLONASS signal.
Powerful Flight App
As with most aerial photography drones today, flying this quadcopter needs a smartphone or a tablet. You'll have to use the DJI Pilot App if you want to use the Phantom 3. The Pilot App became quite famous, thanks to its flight simulator feature.
Now, DJI plans to add a few more interesting things to the app to improve the flying experience. This includes full camera controls while using the app, a flight log for all telemetry data, and a YouTube livestream function allowing you to broadcast videos online. As far as aerial photography drones, the features of this app look great.
Excellent Pricing

DJI hits all the right notes in terms of this quad's pricing. The Phantom 3 advanced version is at $999, while you can buy the Phantom 3 professional type for $1,259. If you want an extra battery pack, you just have to add an extra $100. The deal for the Phantom 3 is this simple. VS the Solo drone from 3DRobotics, DJI has won the price point battle this time – at least on paper. Maybe DJI isn't the Apple of quadcopters as most people think.
When it comes to drones, 2015 is shaping up to be a very interesting year. With the 3DRobotics Solo and the DJI Phantom 3, who knows what kind of drone will hit the market next? Hopefully, the Phantom 3 ships soon, because we can't wait to write a DJI Phantom 3 review.